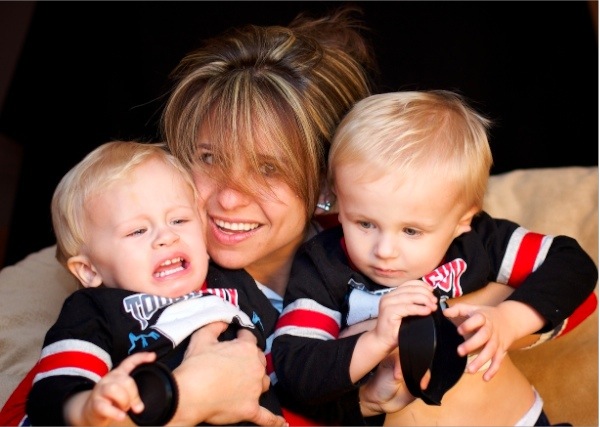 It was just over a year ago that we were, on very short notice, in need of a new Nanny after having one that just didn't work out after only 2 weeks on the job, and another one before her that quit with no notice. This was one of those times that when you look back, what seemed like a bad situation was really a setup for something better.
Maria was hired before she even left the interview after spending 2 hours talking and caring for the boys while we asked questions. We could tell just from her interaction with them that she would be a great caretaker for the boys. In no time at all she was in love with them as if they were her own. Even now, just saying "Maria is here!" gets the boys running to the front door looking for her. She has not only been great taking care of the boys, but most days she helps clean the house, do the boys wash and makes us dinner. What's not to like!
So now the boys are almost 2 years old, and we've realized that hey need more help then we can give them on our own or even with the help of a Nanny. They need more stimulation, more challenges, more interaction with other kids and need to be more engaged in general. We recently found a school (a pre-preschool) that seems to have a great balance of all of these. We knew after our first meeting at the school that this was what they needed. We did one trial day with the boys at the school to see how they liked it, and it was clear that we were doing the right thing.
So starting next week, the boys will be in school from about 9-5 on Tuesdays, Wednesdays and Thursdays. This gives Brenda time to relax and start "nesting" for the new baby, and sometime next year if she chooses to, it gives her a chance to continue her career, something she's still very passionate about.
Maria is still weighing out her options and may continue to Nanny or pursue some other opportunities that have come her way recently. One thing is clear, if she continues to Nanny she will not have a difficult time finding a new job, even in this economy. She is second to none, and the only bad part about having her help out is that any other caretaker after her will just not compare.
So while she's no longer our Nanny, she will always be a great friend. We love you Maria.
You can find the rest of the photos on SmugMug.