As much as I love apple products, I was actually very pleased that the new iPad 2 was not enough of a change for me to want to trade in my old one. I really like the one that I have, and aside from having the cameras added I just couldn't justify spending that kind of money when I already had one that works perfectly well for all the things I use it for.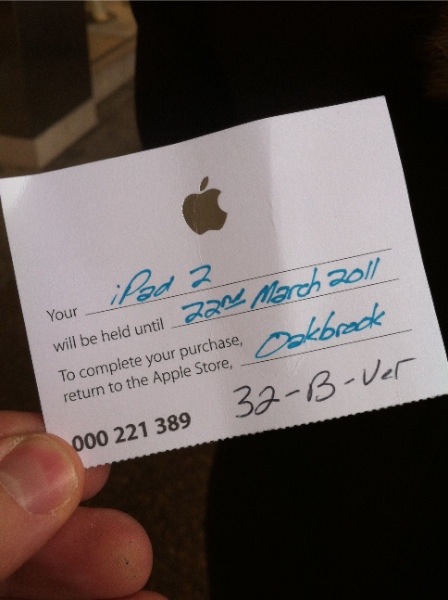 However, my Mom is ready for her first one and being the nerd son that I am, I told her I would take care of securing on for her. Because we're actually taking a family trip to MI this weekend to visit, I wanted to be sure I had one with me! I never expected them to sell out as fast as they did on release day, so getting one has been more difficult than expected.
But in the end, diligence paid off and I was one of the few who got one on Tuesday morning at the Apple Store in Oakbrook. And once again, they were sold out by the time I was leaving the store.
I am actually more excited to be taking this to my mom, because I know how excited she is and I just know it's going to quickly become one of those things she just can't live without.
I know that I've been super busy too, because while I've had it since Tuesday morning, it's still in the shrink wrapped box it came in, untouched.